Adjustable Torque Driver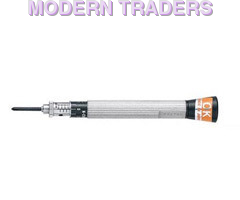 Adjustable Torque Driver
Product Description
We are engaged in offering the best and high strength Adjustable Torque Driver. This drier is made of high quality stainless steel and precisely designed with factor of safety to deal with adverse conditions. This product is used for watches, precision electronic equipment, computer, etc. This driver can be used easily and has non-rotary slip clutch. This driver is weather proof, thermally stable, and maintenance free, thus widely demanded. This Adjustable Torque Driver can be availed from us at affordable rates.
Features:

Easy torque adjustment
Durable & reliable
Rigid & sturdy construction
AMLD/BMLD For Fine Screw, Adjustable Torque Driver
For tightening fine screws (M1-M2).

Application

For watches, precision electronic equipment, computer, etc.
Features
For fine screws.
A feature toggle type torque detection mechanism ensures accuracy and long durability.
When set torque reaches, the break is felt by hand.
Non-rotary slip clutch.
Easy torque adjustment.
Used for steady precision operations with finger touch structure.
Applicable to use in the EU region. Comply with calibration procedures of ISO6789 Type II Class D.
Specifications
Bits for AMLD are supplied from only Tohnichi.
Standard bit, 6.35 HEX is available for BMLD.

Technical specification

S.I.
Model
Capacity
[cN*M]
Metric Model
Capacity
[kgf*cm]
Dimension
[mm]
Weight
[kg]
Accessory bit
Amer
-ican Model
Capacity
[ibf*in]
AMLD1CN
0.3~1
0.01
100AMLD
30~100
1
83
9
8
13
48
14
14
0.026
#0
0.15x1
0.2x1.5
0.3x2
-
-2
AMLD2CN
0.5~2
0.025
200AMLD
50~200
2.5
AMLD3Z
1~3
AMLD4CN
1~4
0.05
400AMLD
100~400
5
AMLD6Z
2~6
AMLD8CN
2~8
0.1
800AMLD
200~800
10
AMLD12Z
3~12
BMLD15CN2
2~15
1.5BMLD2
0.2~1.5
0.01
116
15
11
15
62
-
10
0.05
-
-
1.5BMLD2-A
3BMLD2-A
0.2~1.5
0.4~3