Attachment for TCF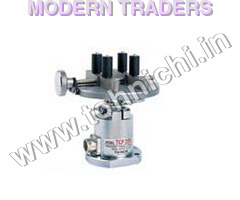 Attachment for TCF
Product Description
ATF Test Piece/Dril
Attachments for TCF to achieve precise torque measurement.
Application

Attachment for TCF model.
Features
Model TP has been designed to simulate joint characteristics by tightening a test bolt through a set of conical spring washers, which are arranged similar to actual joint, "soft", "medium", or "hard" joint.
Three jaw chuck of DTF model grasps the objects to be measured quickly and accurately.
Universal built-in clamping fixture of TTF model allows for a wide variety of parts to be easily checked without special fixture.
Specifications
ATF attachment is required to fix TTF table to TCF model
Model

S.L. Capacity

[N.m]

Metric capacity

[kg/.cm

Appicable TCF Models

INLET in

CLE Running

Dimension [mm]

Weight

min-max

Min.max

Head B opposite size

Small screw M

rew

Square drive

H0

H1

H

D0

D2

[kg]

a

h

TP2.5N

0.25-2.5

2.5-25

TCF02N,TCF04N

8

M4

5

6.35

7.5

58

36

106.5

18

-

0.08

113

TP18N

1.8-18

18-180

TCF10N,TCF20N

13

M6




9.53

11

87

57

141

35

20

0.27

TP180N

18-180

18-1800

TCF40N,TCF200N

24




12.7

14

148

108

234

65

36

1.9

TP1800N

180-1800

1800-18000

TCF400N,TCF2000N

50

25.4

26.5

297.5

220

451

140

55

16.8
Model

Connectable TCF Models

Chuck CRP [mm]

Dimension [mm]

d

Square drive

H0

H1

H'

D0

D1

D2

T

e

h

DTF5-3

TCF02N, 04N

Max.

6.35

7.5

68.5

50

117

33

15

-

11

TCF1N-4N

123.5

DTF5-2

TCF10N-40N

9.53

11

72

126

30

20