CDB100N x 15D-S Torque Wrench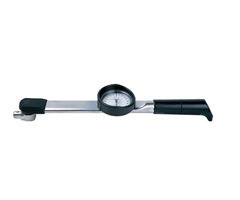 CDB100N x 15D-S Torque Wrench
Product Description
CDB100N x 15D-S Torque Wrench
Application

For inspection (or tightening).

Features

Interchangeable head version of DB model.
CDB is equipped with a memory pointer as standard to capture peak torque reading.
Since the amount of deformation is small, the operator's fatigue
is reduced compared to the flat beam type torque wrench.
Since the dial is movable, the pointer can be set to the desired torque
first and complete tightening as the pointer indicates "0".
The dial indicator has a protective cover to prevent damage to external objects.
Compliant with calibration procedures of ISO 6789 Type I Class B.

Specifications

Overall length does not include interchangeable head.
PH(Pipe wrench) type interchangeable head can not be used for this model.
CDB25N - CDB200N come with a resin grip.