CSF14N X 8D Torque Wrench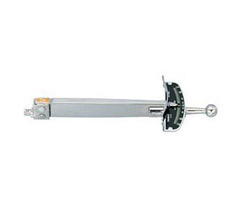 CSF14N X 8D Torque Wrench
Product Description
CSF14N X 8D Torque Wrench
Application

Tightening and inspection.

Features

SF/F model with interchangeable head.
Flat beam and direct reading type.
For multiple purpose applications and cost saving type torque wrench
with various interchangeable heads, such as open end head,
ring head, ratchet head, hex head, etc.
Graduated in clockwise and counterclockwise, and suitable for re-tightening
and loosening torque inspection methods.
Since the unique tapered beam keeps internal stress constant and
does not generate any friction, the wrench is durable.
The flex handle helps to reduce the possibility of the operator's
hand slipping.
For CSF7N-230N models memory pointer is equipped as standard accessory.
Applicable to use in the EU region. Comply with calibration procedures
of ISO6789 Type I Class A.

Specifications

Overall length does not include interchangeable head.
PH type interchangeable head is not available for this model.
For CSF7N-230N the models with memory pointer are available.
Add "-S" for the model with memory pointer.