CSPFHD50NX12D Torque Wrench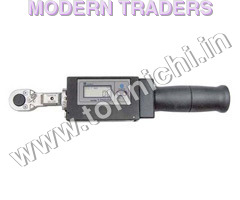 CSPFHD50NX12D Torque Wrench
Product Description
CSPFHD50NX12D Torque Wrench
Application
For assembly process in sub lines and cell production.
Features
It sends out the very torque value of "clicking" point, suitable for
productivity-focused data management.
Highly reliable FHSS method applied.
256 kinds of group channels and ID (3 digit + 7 digit alpha-numeral) can
be set wirelessly on virtually countless combination.
Setting change can be easily done wirelessly.
OK/NG judgement LED and the torque display are loaded on the torque wrench
so the user can check the proper tightening on the spot.
The product is compliant with NIHON TEREC (Japan), FCC(USA), IC(Canada),
EU (CE R&TTE) and NTC(SDoC) and it can be used only in following designated
countries: Japan, USA, Canada, EU, Thailand. Please consult TOHNICHI for
possible usage in other countries.
The product is built-to-order basis only.