Himax Electric Screwdrivers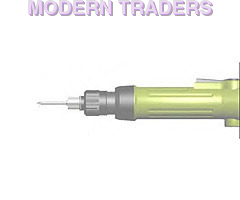 Himax Electric Screwdrivers
Product Description
Himax
HIMAX developed a series of electric screwdrivers for assembly in industrial application, which have high quality while offered at reasonable price.

The products have passed many internaltional safety certifications such as CCC and CE all parts are manufactured in mass quantity with unified specifications.

No need to train operators or serviceman in the factory for professional use.
The product enjoy a ready market all over the world, receiving favorable comments.
They suit application in precise assembly industry.

Stable and precise torque
With the precise torque control unit, when locking to the set torque value, it skips easily without a loose tooth and conuterforce, smooth handle, torque accuracy for fastening each screw within 3%.

High speed and high efficiency
High rotary speed suits operation by high speed. Ergonomic design
With new ergonomic design, it is small, light and easy to hold.

Double insulation design
With multiple insulation design, it is safe and dependable
Balanced and simplified design
With professional balanced design and simplified inner mechanism, the motor and gear produce small vibration and low noise in operation.
Easy maintenance
All parts are manufactured in unified specifications, which minimizes the possible problem without the need of specialized maintenance and outfit.
After sales service warranty
Permanent specialized operation system provides complete product after sales service warranty. Super high standard mechanical properties
Stability
The unique 12mm oil retaining bearing fixes position for the drive system to attain stable torque output for rotary transmission, with planet reduction gear, free of maintenance high speed, big torque and low inertia.
Accuracy
The light aluminium alloy clutch unit fitted planet reduction gear lowers the mechanical friction coefficient and achievers the highest accuracy.
Durability
The unique drive shaft is formed into integration through grinding, with high stiffness, high operation, low friction resistance and long service life. The gears are made of CrMoV steel, hardened and further treated with advanced ion nitriding equipment for surface nitrogen treatment to obtain the best wear hardness and shock resistance.
High Efficiency
Two sets of thrust ball bearings are installed in the longitudinal axis of rotation to increase the live load pressing capacity by 30%.
Low temperature
Made of NdFeB magnet, the motor has super high efficiency and fast heat elimination, which helps the screwdriver keep low temperature during continued operation.
Product details
| | |
| --- | --- |
| Item Weight (Kgs) | 650 Kg |
| Model | 520i |
| Brand | Himax |
| Warranty | No warranty |
| No Load Speed (rpm) | 1000 |
| Torque (Newton Metre) | 0.02-0.34 N.M |