PHL420N Torque Wrench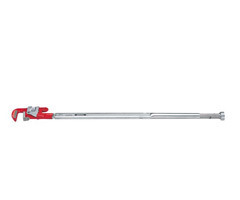 PHL420N Torque Wrench
Product Description
PHL420N Torque Wrench
Application

For piping operations and building construction.

Features

Adjustable heads easily grips pipes.
A click will signal that the proper amount of torque has been applied.
Easy torque setting by graduation.
E-type models are with an extension handle.

Specifications

For PHLE850N, 1300N, adjusting tool is supplied as standard accessory.
Not for inspection purpose.
Supplied with extension bar.
Accuracy is 5%. Effective length will change depending on diameter of pipes.