Power shut off tools Driver EYFLA5A / EYFLA5AR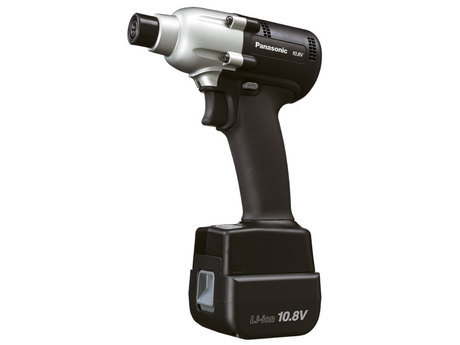 Power shut off tools Driver EYFLA5A / EYFLA5AR
Product Description
Power shut off tools Driver EYFLA5A / EYFLA5AR
Overview


Cordless Mechanical Pulse Tool
Type
EYFLA5A
Chuck Size
Single-ended 9mm
Double-ended 12mm
Application
M6 bolt (Tensile bolt)
M8 bolt (Normal bolt)
Maximum torque (F mode, fastening 3 sec.)
approx. 90 Nm (M14 bolt)
Torque control function operating range
approx. 630 Nm
Torque Setting
30 stage + F (without torque setting mode)
Flush Detection Mode Applications
L1: For lighter loads during fastener run down
L2: For prevailing torque during run down and varying joint rate applications
No load speed (unit : rpm)
stage1: 0 ~ 1300
stage2: 0 ~ 1450
stage3: 0 ~ 1550
stage4 ~ 30F: 0 ~ 2300
Impact per minute
stage1: 0 ~ 2500
stage2: 0 ~ 2800
stage3: 0 ~ 3000
stage4 ~ 30 F: 0 ~ 3600
Weight*1
(inc. battery)
EYFB30B
approx. 1.3kg
EYFB32B
approx. 1.15kg
EYFB40B
EYFB41B
Size
Length
158mm
Height
248mm (EYFB30B), 231mm (EYFB32B)
Width
approx. 59mm (Width of battery pack: approx. 75mm)
Function
Wireless Communication
EYFLA5AR only
with assembly qualifier (OK fastening: Green lamp, NOK fastening: Red lamp)
LED Light
X
(ON/OFF switch, Light off after five minutes automatically)
Tightening confirmation lamp
X
(OK fastening: Green lamp, NOK fastening: Red lamp)
Retightening Prevention Function
X
(Possible to set between0 ~ 3sec.. 0.1 sec. per stage)
Battery indication lamp
X
(3 stage)
Auto-Power Stop function
X
Application Capacity/ Working Speed
approx. 800 pcs/pack
approx. 0.8 sec/1pcs (EYFB30B)
approx. 540 pcs/pack
approx. 0.8 sec/1pcs (EYFB32B)
<M8: 23 Nm, Stage: 22>
Charging time
Usable charge: approx. 35 min.
Full charge: approx. 45 min (Battery pack EYFB30B, Charger EY0L82B)
Usable Charge: approx. 35 min.
Full Charge: approx. 40 min (Battery Pack EYFB32B, Charger EY0L82B)
Notes:
*1 Weights are described in 0.05kg increment.
There are models limited to particular region.
Battery pack is not included.
Assembly Qualifier EYFR02B
The Panasonic EYFR02B is a single tool controller for communicating to Panasonics wireless assembly tools. The simple design provides the operator a clear visual and audio feedback, informing the operator of a pass or fail fastening strategy. Connecting the I/O to line stops or a PLC enables additional error proofing capabilities; reducing defects, increasing overall productivity and product quality which leads to a money savings.

Battery pack EYFB30B, EYFB32B
10.8V Li-Ion battery pack
EYFB30B: High capacity 3.0Ah
EYFB32B: Light weight 2.0Ah
Charger EY0L82B
Charger EY0L82B for all 10.8 - 28.8V batteries
Remote control EYFA31B
Protector for Battery EYFB30B / EYFB32B
EYFA02-H (gray): for EYFB30B
EYFA03-H (gray): for EYFB32B
Protector for Tool EYFLA / EYFMA
EYFA01-A (blue)
EYFA01-Y (yellow)
EYFA01-H (gray)
EYFA01-G (green)