QL100N4 Torque Wrench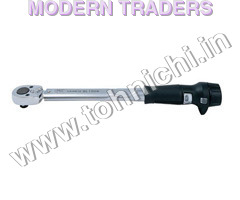 QL100N4 Torque Wrench
Product Description
QL100N4 Torque Wrench
The offered QL100N4 Torque Wrench is a compact and lightweight industrial tool used for the tightening and loosening of various types of mechanical fasteners during assembling and disassembling processes. This clicking mechanism of this tool gives a signal when torque is applied. Top-grade alloyed steel is used for the fabrication of these industrial products that result in high durability and robustness. QL100N4 Torque Wrench availed by us is capable to create movement at an angle of 15 degrees.
Application
For a wide range of bolts and fasteners.
Features
A standard type for bolt tightening applications.
A click will signal that the proper amount of torque has been applied.
The ratchet head features 24 teeth accurately ground to provide durability and
creates movement at 15 degree intervals which allows for
gear ease of tightening in confined spaces.
Easy torque setting by graduation.
Resin grip provides easy operation and user comfort. (Model QL25N-280N)
E-type models are with an extension handle.
Applicable to use in the EU region. Comply with calibration procedures of
ISO6789 Type II Class A.
QL/QLE models are available to use in Russia. Click here to see the "GOST-R" certificate.
QL100N-3/8 with 3/8 inch square drive is newly added to the range (Dec1st, 2011 onward)
Specifications
For QLE550N-2100N, adjusting tool is supplied as standard accessory.
QL1.5N4-12N4, 420N, QLE550N-2100N are with knurled handle.
Not for inspection purposes.
For QL with limit switch.