QSPCA12N Torque Wrench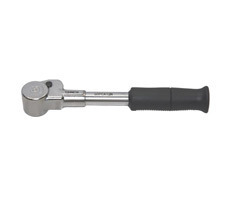 QSPCA12N Torque Wrench
Product Description
QSPCA12N Torque Wrench
Application

Ideal for mass production assembly and maintenance fields.
Limit switch version (QSPCAMS) applies for torque verification (Pokayoke) processes.

Features

Cam Action Mechanism
Tohnichifs original cam-link mechanism generates a 45 degree gsliph action. Once torque set
is achieved, even if more force is applied, the tool does not add additional torque.
100K Cycles of Accuracy Stability
Superior durable accuracy; 100,000 tightening cycles or one year. By measuring and
adjusting each 100,000 cycles, it will be possible to use for up to 1,000,000 cycles.
No Torque Variation by Gripping Point
Designed so that gripping point has no affect on the torque, individual tightening
variations between beginners and skilled operators are reduced.
Ratchet Structure
36 teeth ratchet gear allows for 10 degree of operation in tight spaces.
ESD Standard Approved
Conforms to the Electrostatic Discharge (ESD) standard; IEC 61340-5-1:2007
Quick Torque Adjustment by Hex Key
The set torque cannot be changed without using a special hex key (No.931), preventing
the operator from changing torque by mistake.
Error-Proofing (Pokayoke) System with Limit Switch Version.
Upon reaching the set torque, the limit switch version (QSMCAMS) sends out a contact
signal simultaneously, which can be connected to CNA-4mk2 (count checker) or PLC to
create tightening count management system.
QSPCA30N, QSPCA70N and their LS version added to the line-up (2011.09.21-)

Ordering Information

A torque wrench tester is necessary for torque adjustment.
Specify required set torque when you order.