SF6N Torque Wrench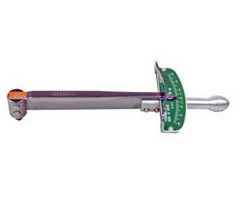 SF6N Torque Wrench
Product Description
SF6N Torque Wrench
Application

For tightening and inspection.

Features

Basic model of the torque wrench.
Simple flat beam and direct reading type.
Light weight, easy-to-read scale and suitable for inspection.
Graduated in clockwise and counterclockwise, and available for
re tightening and loosening torque inspection methods.
Since the unique tapered beam keeps internal stress constant and does
not generate any friction, the wrench is durable.
The flex handle helps to reduce the possibility of the operator's hand slipping.
Memory pointer is available for F23N-280N.
Applicable to use in the EU region. Comply with calibration procedures
of ISO6789 Type I Class A.
SF/F models are available to use in Russia.