STC Screw Torque Checker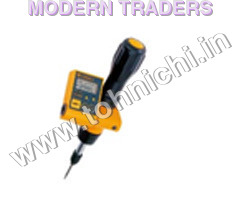 STC Screw Torque Checker
Product Description
With years of experience in this domain, we are presenting the premium quality STC Screw Torque Checker in the market. This torque checker finds its application in aviation, mining, shipping industry, railways and motor-sports. This product is widely demanded for its durability, accuracy, easy user interface, high efficiency, fault free results. This torque checker require less power to run and attain maximum output. We are providing this STC Screw Torque Checker to our clients at reasonable price.
Features:
Battery operated high efficiency
Digital interface
High compatibility
STC Screw Torque Checker
Multiple use capabilities for torque check, data processing and quality control.

Application

For tightening and inspection.
Features
Built-in digital type.
High operational efficiency.
Infrared data output, data memory up to 100 readings, and data processing functions.
Adjustable display angle.
High working efficiency created by ratcheting function.
2 x AAA Alkaline batteries, 16 hours continuous operation.
Applicable to use in the EU region. Comply with calibration procedures of ISO6789 Type I Class E.
Specifications
Standard bit, 6.35 HEX is available.
The handle of STC50CN has finger touch structure, difference shape from the other STC models.
Technical specification
S.I.
Model
Capacity[cN*M]
Metric Model
Capacity[kgf*cm]
Display
Length
Weight
American Model
Capacity
[ibf*in]
STC50CN
10~50
0.05
5STC
1~5
0.005
LCD Display
Count value 3 digit
Torque value 4 digit
201
0.43
5STC-A
1~5
STC200CN
40~200
0.2
20STC
4~20
0.02
20STC-A
4~20
STC400CN
80~400
0.5
40STC
8~40
0.05
40STC-A
8~40
DATA MEMORY
100 DATA
ARITHMETIC FINCTION
Sampling, Maximum, Minimum, Means
MEASUREMENT MODE
PEAK/RUN
DATA OUTPUT
Infrared ray
RESET FUNCTION
Manual/Auto
0.5~5.0sec. adjustable by 0.5 step.
OTHER FUNCTION
Auto Power off(after 3 min.)Battery Check
POWER SOURCE
2XAAA Alkaline Battery
CONTINOUS USE[h]
16
OPERATING CONDITIONS[C]
Temperature 0~40,Humidity Below 85%RH