Ultrasonic Tightening Tester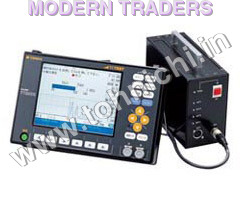 Ultrasonic Tightening Tester
Product Description
Our organization is focused on serving high quality products to the respectable patrons by manufacturing and exporting Ultrasonic Tightening Tester. These testers are used for measuring the tension and torque of a bolt. We use the premium grade materials sourced from the reputed vendors to manufacture these testers. Our clients can avail the Ultrasonic Tightening Tester from us in different customized specifications. We precisely check these testers on durability and functioning parameters before offering at market leading price.
Features:
Accurate measurements

Highly effective

Compactly designed
Further Details:

Changes in bolt tightening that occur over time can be detected by ultrasonic nondestructive tests. Application

For measuring axial bolt tension and determing tightening torque.
Features
Color display.

Compact, light weight, suitable on the operation of field.

With variety of functions - lamination of wave, wave detection change, AGC (auto gain control) etc.

Bolt dimension is modified by graphic and dimension input is displayed in red.

Interactive communication to PC.
Specifications
Auto temperature compensation is available to connect option thermometer on TT2000C, TT2000M in the limit of -40 - 200. Measurement at 60 and more requires the sensor for high temperature.

Communication function by RS232C is available only for TT2000C, TT2000M.

Composite output, alarm output, encoder input are available to use multi connector box supplied for TT2000M or battery built-in case for option.

DC12V is only available to use with portable battery or battery built-in case of option.
Measurement Range

5-10,000 (steel material)

Applicable Bolt Length

50-9000

Applicable Bolt Diameter

6 dia or more

Ultrasonic Wave Frequency

0.5-15

Display screen

Color 6.4 type (640x480 dots)

Time Axis Resolution

5

Axial Force Measurement

It is decided by bolt diameter, and length (Example) on the measurement (steel) of first base echo

Bolt diameter 10 bolt tightening length 50mm approx. 1.47 kN

Bolt diameter 20 bolt tightening length 100mm approx. 2.94 kN

Result of Measurement

Bolt initial length (mm), echo power (dB) Bolt axial force (N), stress(MPa) elogation(mm
)

Memory capacity of data

1500 pcs. Or time pass measurement 300 items

External output

8 bit serial interface (RS232C) *2

Composit output (NTSC), Alarm output (photo coupler) Encorder input *3

Bolt temperature correction

Manual input by key, auto temperature input *1

Power supply

85-130 185-265 (50/60 Hz) or DC12V *4

Battery

Portable : 2.5h usage 1.5h charge Built in case usage 4.5h charge

Dimension [mm]

Body : 160x246x60 (H,W,D) Body + Built in battery: 160x246x246x(H,W,D)

Weight approx [kg]

Body : 1.2 body + built-in battery : 4.9

Usable Temperature range [C]

0-45